In March of this year, the local Surfrider student club at Stephen Decatur High School led the charge during Coastal Recreation Hill Day! They met with our nation's federal leaders to urge them to protect our coasts and ocean. We are SO proud of these students and thankful to their club leaders Mandi and Steve for speaking up for the ocean and the shore! Read on to hear reflections on the day from one of the student ambassadors and club advisor and chapter secretary, Mandi.
Being a senior, I've had the opportunity to participate in Hill Day twice and both times have been super fun and memorable days! My first time was over zoom so I didn't get the full experience but this year I was able to travel to DC with a couple other Surfrider Club members to be there in person. My group met with 5 representatives and my topic was the Break Free from Plastic and Pollution Act. I had the chance to share why this act is important to my community and what their support of it would do for us. I had so much fun walking around DC and meeting with lots of new people. I learned so much during this trip and it will definitely be one of my favorite memories from senior year!
-Sarah Tarr, Senior, Stephen Decatur High School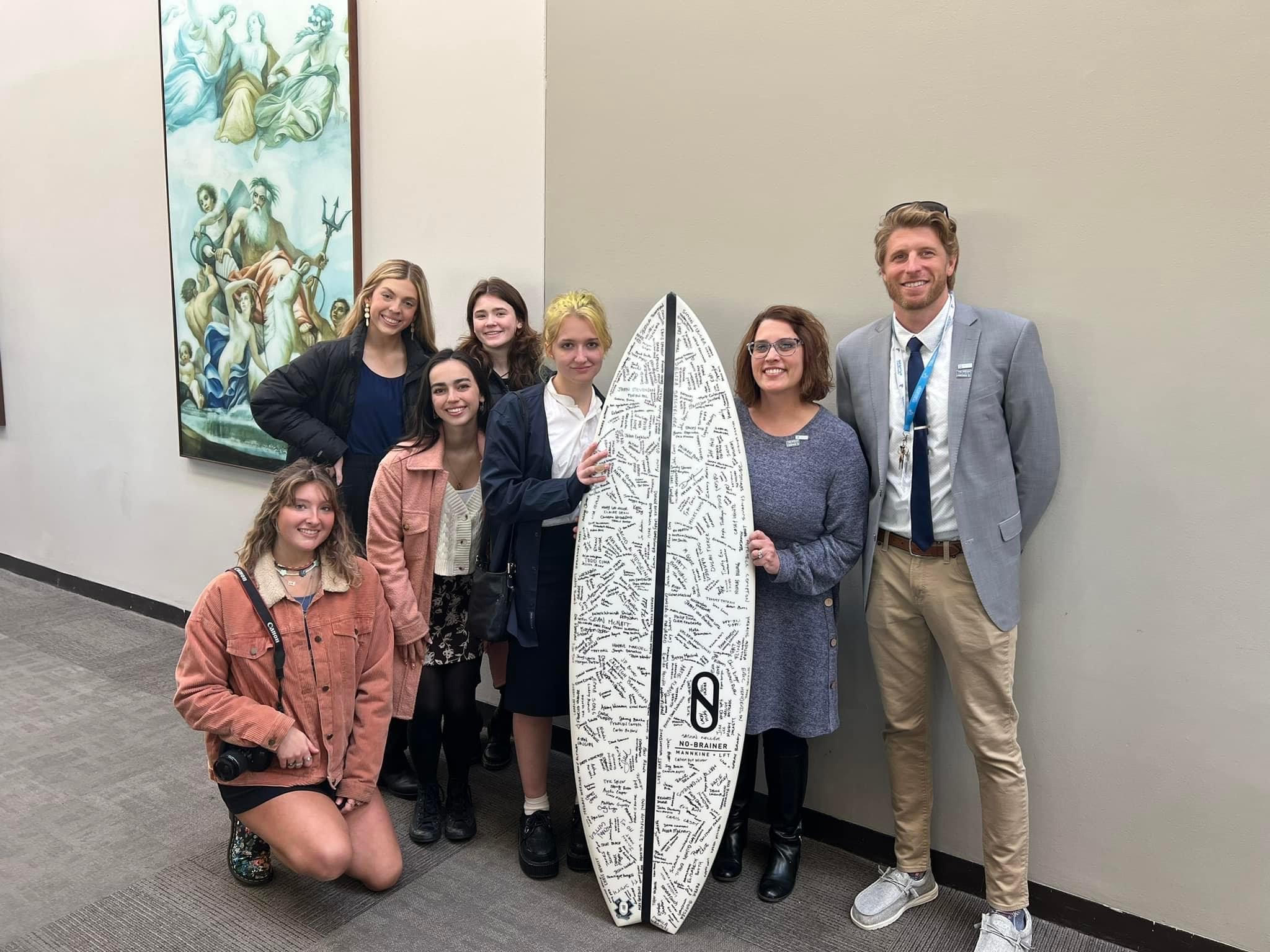 ---
Coastal Recreational Hill Day is one of my favorite days of the year! As the Secretary of the Ocean City Chapter and the Club advisor at Stephen Decatur High School, I get to experience the day at all levels of our organization. During this annual event, members of the Surfrider Foundation ascend on Capitol Hill to meet with their state representatives and ask for support on upcoming or current legislation that would protect our oceans and beaches. The day is full of briefings, meetings, and camaraderie. To be in the presence of so many passionate and like minded people is truly empowering and exhilarating. There are several meetings leading up to the event, detailing the day and educating us on the legislation we will be discussing. Each meeting is carefully scheduled throughout the day to ensure that we have enough time to properly make a connection with each delegate. During those meetings, we are able to ask for support on issues such as plastic pollution, coastal resilience, and water quality testing.
For me, the thing that makes the day so special is being able to introduce the next generation to the lobbying process. Students have joined the Ocean City Chapter at Hill Day for the past four years, and every year, they impress each and every delegate. The students put so much time into preparing for the day: from studying what they are going to talk about, to joining logistics meetings, to waking up in the wee hours in the morning to make the opening briefing. I am hopeful that this day inspires them to take action and be good environmental stewards throughout their lives. I know it gives me a renewed sense of purpose and excitement to help protect our coast.
-Mandi Wells, Ocean City Chapter Secretary and SDHS Club Advisor
---
Thank you Mandi, Sarah, and the entire Hill Day 2023 team! We are lucky to have you all looking our for our ocean. To read more on Hill Day, visit the
Surfrider blog post.